The OIL office is open (Monday through Friday, 8 a.m. to 4:30 p.m.)
Be sure to follow us on Facebook for updates: https://www.facebook.com/OILOzarkIndependentLiving/
O.I.L. description:
Ozark Independent Living (O.I.L.) is a non-profit, non-residential facility, which serves people with disabilities. Some staff and board members are also people who happen to have disabilities. O.I.L. is funded by a grant from the Division of Vocational Rehabilitation of Missouri and a Medicaid-reimbursed program a Medicaid-reimbursed program (Consumer Directed Services which provides aides in the home) and a Veterans Directed Care program that is funded through the Veterans Administration. The office is located in West Plains at 109 Aid Avenue. Although located in West Plains, this office serves the counties of Douglas, Howell, Oregon, Ozark, Shannon, Texas, and Wright for CDS services.  It serves Poplar Bluff, Kansas City and St. Louis VAMC's for VDC services.
O.I.L. provides the following core services:
Information and Referral –

phone numbers, websites and general disability information

Peer Support –

assistance to questions from someone who has a similar disability

Skills Training –

from budgeting and bathing to how to set up a household and more

Advocacy –

assistance in helping you speak up for yourself on issues related to disabilities

Transitioning –

from nursing homes back to home or from high school to live independently
The Independent Living philosophy believes in consumer power, self-reliance, political, and economic rights.
O.I.L.'s Statement of Vision, Mission and Values
Vision: Ozark Independent Living will be a leader in furthering the cause of independent living throughout the community. We exist to change society's perception of disability, and will confront and eliminate discrimination.
Mission: To empower people with disabilities to live as full and productive members of society.
Values: We believe individuals with disabilities should be able to live with self determination and participate fully in communities that are accessible to all-inclusion.
We believe in identifying and creating opportunities for people with disabilities to find secure and challenging employment.
We believe policy makers and the general public alike must be made aware that people with disabilities should not be patronized, pitied, excluded, or over-protected.
We believe that each of us is an architect of this organization; our personal commitment and actions determine OIL's future.
We believe that just as we foster self-reliance, OIL and its employees are self-reliant.
We believe in maintaining an environment of mutual respect where open, honest communication is encouraged, welcomed, expected and practiced throughout the organization.
We believe our greatest strength lies in committed, energetic staff that works together to play an active role in shaping Ozark Independent Living's future.
We believe that because people with disabilities represent a diverse segment of the population, Ozark Independent Living must aggressively pursue full diversity in our staff, board of directors, and service-delivery system.
---
Contact Us • Accessibility 
109 Aid Avenue, West Plains, Missouri 65775 • 417-257-0038 • 888-440-7500
Email: 
SINCE 1996
If you would like to make a contribution to Ozark Independent Living you may send cash, check, or money order to
109 Aid Ave., West Plains, MO  65775.
We gladly accept all donations.
MSU-WP Scholarship Established in Honor of Cindy Moore
In honor of Cindy Moore who retired as Ozark Independent Living Executive Director at the end of 2020, a scholarship has been established at Missouri State University-West Plains. OIL Board President Marty Simpson said the scholarship is in recognition of Cindy's 25 years of service to the organization. Cindy was the founding executive director in 1996 and was  the only person to serve in the role until her retirement.
Officially called the "Cindy Moore Restricted Scholarship Fund," the $5,000 annual scholarship is to be awarded each fall to an MSU-West Plains enrollee who is a resident of one of the seven counties served by OIL. Further eligibility is not limited to but will focus on individuals with physical and neurological disabilities.
Anyone wishing to congratulate Cindy is invited to send a card to: Cindy Moore, Ozark Independent Living, 109 Aid Avenue, West Plains, MO 65775. We'll be sure to get the cards to her. John Adamson has been named the new executive director.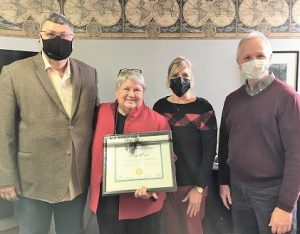 From left: Representing Ozark Independent Living at the recent announcement of the establishment of the Missouri State University-West Plains "Cindy Moore Restricted Scholarship Fund" are Board President Marty Simpson; Cindy and Board Member Dawn Hicks. Representing the university is Dr. Dennis Lancaster, MSU-West Plains Chancellor.